No.55 Trail Boot - Oil Black
---
No.55 Trail Boot - Oil Black - Medium / 5.5 is backordered and will ship as soon as it is back in stock.
---
Couldn't load pickup availability
Diabetic Shoe Information

Diabetic Information

Dahl is a leading provider in Minnesota for diabetic shoes. We offer the benefit of in home fittings, consultations, and delivery of inserts and shoes that fit properly. Today's diabetic shoes offer high-quality, stylish, customized comfort and protection for the feet. With a prescription from your doctor, diabetic shoes are typically covered by health insurance on an annual basis. 

Bring your prescription for diabetic shoes into the store to get fitted, or we are happy to come to you! Call (612) 334-3149 to set up an appointment or if you have any questions about diabetic shoes and process of getting the. 

These comfortable shoes, which are available in hard to fit sizes and widths, are also available for purchase or through waivers. 

Diabetes and Your Feet

Diabetes causes nerve damage and reduced circulation that can be hazardous to your feet. Deterioration of your peripheral nerves (doctors call it "neuropathy.") reduces sensation in your extremities, so you may not feel it when you hurt your feet. Poor blood circulation can also make it difficult for foot injuries and infections to heal. That's why even a small bump or cut can result in serious consequences if it goes without timely medical attention.

Why Footwear Matters

Well-made, properly fitting footwear can help you avoid complications associated with diabetes, including unnecessary amputations. Dahl Medical Supply offers a complete footwear system and styles for men and women with diabetes.

Shoes

The extra width and depth of diabetic shoes alleviate pressure on swollen feet, bunions, hammer toes for a more comfortable fit.
Supportive, lightweight shoe design protect your feet and helps you stay active.
Heat-molded inserts personalize the fit of your diabetic shoes.

Socks

Socks promote blood circulation white reducing the moisture and microbial growth that can cause infections.

Slippers & Sandals

Protect your feet from injury around the house.

Insurance

Medicare and Medicaid often provide coverage of diabetic shoes and inserts because quality, custom-fit footwear is key to the ongoing foot health of people with diabetes.

What Else You Can Do

To protect your feet against the complications of diabetes, follow these simple tips:

Carefully bathe and dry your feet daily to prevent infections.
Avoid walking around barefoot or in open sandals to prevent injuries to your feet.
Quit smoking to maintain healthy blood circulation.

 

Click on the PDF for an Rx statement of Certifying Physician & Prescription for Diabetic Shoes and Inserts. Please print and have a certified physician fill out and faxed back and a Dahl Medical Supply representative will contact you to schedule a fitting appointment. 
Step-By-Step Instructions to qualify for Therapeutic Footwear through Medicare

We are looking forward to helping you protect your feet from breakdown and/or ulceration by using properly fitted diabetic footwear. Please follow these instructions to help us speed up getting you into your new shoes.

1. Take the enclosed Diabetic Footwear Prescription Form (Page 2 in PDF Link Below) to either your M.D., D.O., Endocrinologist or Podiatrist to complete. The prescription must be specific as to the type of footwear and inserts you require. Please remember this prescription is only valid for 90 days from the date it is signed. You must receive your new items within 90 days of the prescription date, so please don't delay in calling us for a fitting appointment.

2. Take the enclosed Statement of Certifying Physician (Page 3 in PDF Link Below) to your Medical Doctor who is treating you for diabetes and have them complete this form. This form cannot be signed by anyone except an M.D. or D.O.

3. PLEASE NOTE THAT YOUR DOCTOR MUST ALSO SEND US CLINICAL CHART NOTES FROM YOUR VISIT, AND THEY MUST INCLUDE KEY INFORMATION REQUIRED BY MEDICARE. This is explained further in the Guidelines for Clinical Notes (Page 4). We must emphasize Medicare requires this additional information and without it, Medicare will deny our claim for your shoes and inserts, thereby making you responsible for the charges. Your Primary Care Doctor or Endocrinologist may not be comfortable with documenting your foot condition(s) and may require you to first obtain this detailed information from your Podiatrist. If provided by a non-M.D. or D.O., your PCP/Endocrinologist must sign, date and indicate agreement with their findings.

4. Once all of your paperwork is complete, contact one of our 12 clinics for a fitting appointment. Our Practitioner will assist you with the selection of footwear and diabetic inserts prescribed by your doctor.

IMPORTANT NOTE:

In order for this form to be valid, it must be accompanied by DETAILED CLINICAL NOTES regarding the above indicated foot conditions!

GUIDELINE FOR CLINICAL NOTES

Dear Primary Care Doctor (or Endocrinologist): Thank you for helping our mutual patient receive Diabetic Footwear. Medicare has for years required you to fill out and submit the Statement of Certifying Physician (SCP). However, over the last few years Medicare has increased the paperwork requirements on suppliers and referring physicians.

WE MUST HAVE RECENT CLINICAL NOTES (WITHIN SIX MONTHS OF THE DATE YOU SIGN THE SCP) FROM YOU THAT SUPPORT THE FOUR MAJOR PORTIONS OF THE STATEMENT OF CERTIFYING PHYSICIAN. IF THE CLINICAL NOTES DO NOT SUPPORT THE STATEMENT OF CERTIFYING PHYSICIAN, THE STATEMENT IS RENDERED VOID.

YOU MAY SUBSTITUTE CHART NOTES FROM THE PATIENT'S PODIATRIST, BUT YOU MUST SIGN, DATE AND INDICATE AGREEMENT WITH THEIR FINDINGS.

CLINICAL NOTES GUIDELINES:

1. Must explicitly certify that the patient has diabetes and assign an applicable ICD-10 code. Results of tests, exams, findings must be in the notes (i.e. blood glucose levels and A1c).

2. Must explicitly document a foot exam and one or more of the required conditions.

THIS INCLUDES THE DETAILS OF TESTS, EXAMS, INSPECTIONS, FINDINGS, ETC. THAT WERE USED TO CONCLUDE THE CONDITION EXISTS.

You may rely on findings of other doctors, such as the patient's Podiatrist, but you must sign, date and make a note on their document indicating your agreement with their findings and then send that document along with the Statement of Certifying Physician that you have also completed, signed and dated.

If you are noting a particular problem, such as a foot deformity, please specify which foot and the type and location of the problem (e.g. Patient has bilateral hammer toes #2-#5). The following are commonly found foot conditions that place a diabetic patient at increased risk and thus qualify them to receive therapeutic footwear through Medicare and other payers:

Lower limb amputation, toes, foot or limb

Ulcer of foot History of pre-ulcerative callus – specify location of callus Polyneuropathy in diabetes and History of pre-ulcerative callus

Claw toe

Hammer toe

Hallux valgus and/or Bunion

Hallux rigidus

Deformity of toe or foot

Charcot Arthropathy

Atherosclerosis of the extremities

Click on the link below for a printable Diabetic Shoes Prescription form that should be filled out by a Certifying Physician.   
Diabetic Shoes & Insert Break-in

• Wear your new diabetic footwear and inserts for 1-2 hours in your home, preferably on carpeted surfaces. 

• Inspect your feet for any redness. 

• If redness persists, consult your shoe fitting and/or health care professional. 

• If no redness appears, wear your shoes around your home for one to two days while periodically checking your feet for redness or uncomfortable rubbing. 

• If they are comfortable, they are ready to be worn outside! 
| | |
| --- | --- |
| Width | Size |
| Medium | 7 - 12, 13, 14 |
| Wide | 7 - 12, 13, 14 |
| Extra Wide | 7 - 12, 13, 14 |
*Anodyne shoes are intentionally designed to fit fuller and roomier in order to compensate for any and all potential swelling, bunions, hammertoes, and/or other diabetic foot complications.


If between sizes, Anodyne recommends rounding down to the nearest ½ size.

If between widths, Anodyne recommends rounding down to the narrower width.
For: Diabetes, Neuropathy, Bunions, Hammertoes, Claw Toes, Plantar Fasciitis, Arthritis, Charcot Deformity, Edema, Swelling, Heel Pain, Heel Spurs
Certification: A5500 Diabetic Shoes 
FSA & HSA: Eligible Product
Anodyne No. 55 Trail Boot in Oil Black is a lightweight women's diabetic boot and an ideal companion for any activity. It is constructed for optimal durability and delivers enhanced support, ensuring utmost comfort on even the most challenging terrains.

Upper: Oiled Leather
Lining: Microfiber
Closure: Hook & Loop
Weight: 9.4 oz
Anodyne Women's Shoe Sizes

| | |
| --- | --- |
| Width | Size |
| Medium | 5.5 - 12, 13, 14 |
| Wide | 5.5 - 12, 13, 14 |
| Extra Wide | 5.5 - 12, 13, 14 |

 

Please Note: Shoes No. 23 (Black & White) No. 45, No.51 (Black) & No.19 (Black) come in size 5 (Medium, Wide & Extra Wide).

*Anodyne shoes are intentionally designed to fit fuller and roomier in order to compensate for any and all potential swelling, bunions, hammertoes, and/or other diabetic foot complications.



If between sizes, Anodyne recommends rounding down to the nearest ½ size.

If between widths, Anodyne recommends rounding down to the narrower width.
It seems everywhere we go, no matter the occasion, we're yearning for a sense of relief. A comfort in where we stand. And for many of us, it's not just where we stand. It's how we stand and what's keeping us going. It's easy to forget (and neglect) what allows us to stay active and on to our next venture. After all, the root of what keeps us stable, upright, and moving, is our feet.

ANODYNE
[an-uh-dayn]

noun
1. A medicine that alleviates or allays pain
2. Something that soothes and comforts:
"The shoes were an anodyne for her feet."

An anodyne, by definition, is something that brings you a sense of soothing and comfort. The comfort we desire (and in some cases need) is unique to each of us. We believe that you deserve shoes that will meet your comfort and style needs, and allow you to maintain an active, healthy and productive lifestyle.

In a far too stagnant market of comfort-based footwear, we're bringing you an unparalleled collection of therapeutic and, at the very same time, refined footwear. At Anodyne, we've avoided the commercial vision of quick and easy comfort. Instead, we've returned to the fundamental roots of footwear – meticulous design, quality craftsmanship, and rigorous attention to detail. We're re-inventing the paradigm in comfort, and we want you to experience it firsthand.

UNBEATABLE SERVICE

Offering a high quality and artfully crafted product isn't enough in our opinion. The service we offer and the interactions we have are a reflection of the care and dedication that we put into building every aspect of the Anodyne brand. 

Real service, unfortunately, is a lost art. The common endless, touch-tone, automated service is outdated and doesn't suit anyone's needs at this point. With Anodyne, you'll experience customer service the way it used to be – a general ease of doing business and real people with the right credentials answering the phones.  

We pride ourselves on maintaining a small, family business mentality with a big business mission. The service we offer will always be personal, diligent and immediate – each and every time. 
No Metal – metal can often irritate and damage the skin, and in rare cases, sewing needles and staples may accidentally be left in shoes and, in turn, cause serious damage. Recognizing this potential hazard, Anodyne has circumvented any such exposure by eliminating absolutely all metal components from its shoes. In addition, every pair of shoes is run through a metal detector prior to shipping. 

Antimicrobial Treatment – in order to ensure our shoes are 100% hygienic, Anodyne spray the inside of every pair with our proprietary, Anti-microbial Protectant before shipping. This 100% natural, anti-fungal and anti-microbial process naturally reduces 99.9% of germ, virus, and bacteria exposure

Understanding Diabetes - Diabetes can cause nerve damage and poor circulation that can be hazardous to your feet. Wearing extra width and depth shoes can help alleviate pressure on swollen feet, bunions, or hammer toes for a more comfortable fit.

For more information please contact us at (612) 334-3159.
Payment & Security
Payment methods
Your payment information is processed securely. We do not store credit card details nor have access to your credit card information.
Questions About Diabetic Shoes?
Dahl Medical Supply
154 Cobblestone Ln.
Burnsville, MN 55337
CALL: (612) 334-3159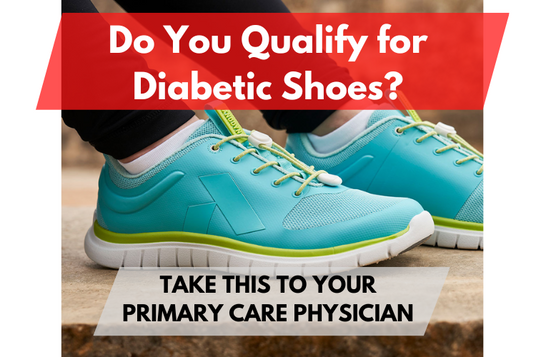 Do You Qualify for Diabetic Shoes?
Step-by-step guide to obtaining Medicare coverage for Therapeutic Footwear.